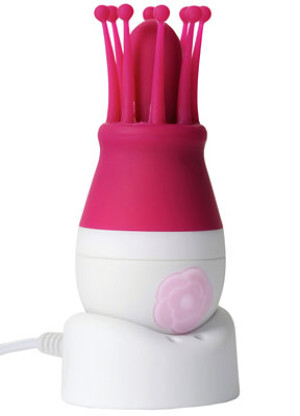 I saw this cute little pouch and though "What do we have here? The Girls Princessa comes in a pink pleather zipper pouch that looks like it can double as a makeup bag. The pouch contained the Girl Princessa vibrator, USB charging cable, charging cradle, wall adapter and instructions. After a quick charge it was time to play. The Princessa is very unique as it looks like an octopus. The nub in the middle provides powerful pinpoint pleasure right to my clit while the tentacles dance and tease across my lips. The sensation is intense and almost tickles. The variable speeds and settings let you take the Princessa from the beginning of playtime all the way to climax.
Product Description:
From The Girls Series the Princessa features delicate, fluttering petals for the lightest of teases to its solid tip that delivers deep and powerful pin-point vibrations for delightful external personal play. Small enough for travel, the Princessa features three vibration strengths and three exciting vibration patterns, managed through a single button control. Made of premium silicone and ABS, the Amie is splash proof, rechargeable and comes with its own charging cradle, USB charging cord and wall adapter.