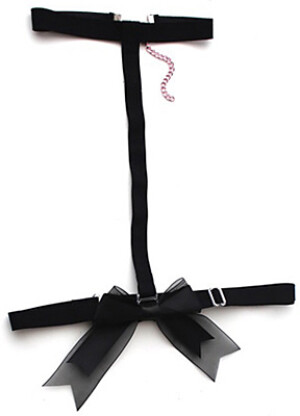 After getting this harness, if everything else they make is this sexy and glamorous, then I want all of it. I want to wear it all the time. I just may, which will go over great at the grocery store. It is very comfortable and adjustable for different body types. Made me feel like I looked like a million bucks! Its fun to grab onto and hold during sex for more fun. The bow makes you look like a lady too, even when being unladylike in the bedroom.
Product Description:
Sweeten your torso with this undeniably sexy bondage-inspired harness.
• Handcrafted organza and satin tye
• Soft black elastic choker with 3" extender for custom fit
• Adjustable waist strap can accommodate up to a 40" waist
Unveil the royalty inside you.