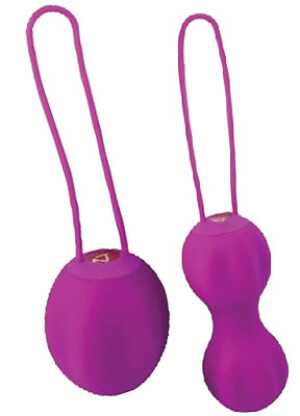 Nomi Tang has made a serious set of balls. If you are serious about Kegel exercise then you have found the right tools. The two-piece set comes in a gorgeous box lined with silver cloth. I started my physical training with the single ball and made it part of my 20-minute daily routine. The anatomically designed shape helped keep them in place as I would go about my business. The stimulation was exciting as I felt the light vibrations inside of me. After four weeks I switched from the single ball to the double ball. This took a little more thought and reaction to keep in place. It has now been about 10 weeks and not only have I noticed results, so has my partner.
Product Description:
IntiMate is a stylish, discreet and effective Kegel Exerciser Set (Pelvic Floor Trainer Set), it increases enjoyment during lovemaking, causes exciting stimulation, is made from premium materials, is very easy to insert, is very quiet during use and it sits securely due to its anatomically designed shape. This set of two Kegel Exercisers with well defined dimensions and weights allows a perfect training of the pelvic floor to improve your orgasmic response.