CANDiLAND Sensuals – Sweet-N-Tart Warming Massage Gels
Doc Johnson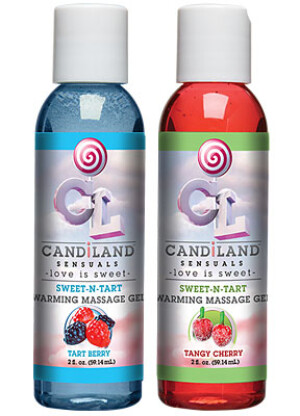 As much as I love sweet tarts, this CandiLand Sweet-N-Tart Warming Massage Gel by Doc Johnson hit the mark on the flavor. This massage gel taste exactly like the old fashioned candy that we have grown to love. It has the best warming effect and glides easy for the perfect massage. If you haven't tried the other items in this new line, you are missing out — they are amazingly good, if you have a sweet tooth!
Market Appeal
The packaging for CandiLand Sweet-N-Tart Warming Massage Gels is high quality, fun and very informative. Showcase the Warming Massage Gels within your lube or bath and body section, alongside the other playful flavors in the line.
For more information, contact Doc Johnson:
Product Description:
Let your customers heat things up with these deliciously lickable Sweet-N-Tart Warming Massage Gels. The perfect amount of sweet yet tarty flavor, this gel will tempt and tease to the last tasty drop. The Sweet-N-Tart Warming Massage Gels 3-Pack is travel-friendly and compact, and includes three mouthwatering flavors: Strawberry Sour, Tart Berry, and Tangy Cherry. Premium Glycerin-based Formulas. Proudly Made in America.