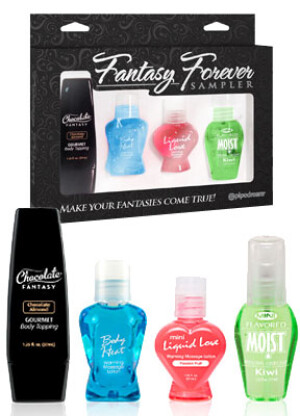 The Fantasy Forever Sampler by Pipedream Products is an assortment of lubricants and lotions. In the black swirly decorated box there are four "love potions." A chocolate flavored body topping, a blue warming massage lotion, a pink warming massage lotion, and a kiwi flavored personal lubricant. The chocolate body topping isn't all that bad, tasting like Hershey's syrup with a pleasant after taste. The kiwi-flavored lube packs an over sweetened punch that tingles a bit. The blue lotion smells like a blue airhead candy, but warms nicely.
For more information, contact Pipedream Products:
Product Description:
Make your fantasies come true with this seductive assortment of pleasure potions. Everything you need to turn an ordinary night into a hot night of passion is included in this sampler pack.
The Fantasy Forever Sampler is the ideal travel companion -- perfect for sexy getaways or overnight rendezvous! Makes a great gift!
Kit includes 1.25 oz. (37ml) bottle of Chocolate Fantasy Body Topping, Body Heat Warming Massage Lotion, Liquid Love Warming Massage Lotion, and Mini Moist Lubricant.
Flavor assortment will vary.