LELO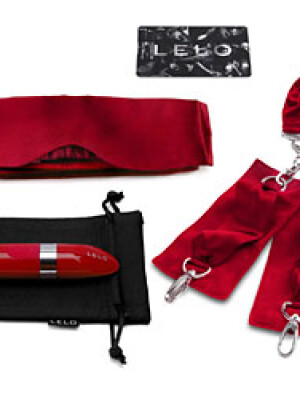 LELO has outdone itself with this beautiful Adore Me Pleasure Kit. I really love this item because of the packaging and the contents of this kit. The product includes a set of red silk and suede Sutra Chainlink Cuffs, a silk blindfold and the stylish lipstick like vibe, Mia 2. The cuffs and blindfold are well made and fit my wrist and face perfectly. The Mia 2 is one of my favorite LELO vibes because it is USB charged, sleek, strong and of course sexy. I pulled it out to show my friends and they were amazed it was a vibrator. The set is great to give as a gift for any occasion.

Market Appeal

The packaging for this Adore Me Pleasure Kit is very informative, sturdy and high end. It is designed for a retail store or could stand alone well for a home party company. The packaging is very well designed and will catch the eye for most female or male shoppers. It comes with clear and concise instructions that are on the package. It is a must have item for any toy box! This item is luxury at its best.
Product Description:
The Gift Set for More Passionate Nights
Treat the one you adore most to a night of pure passion as you indulge in playful restraint with the silk and suede Sutra Chainlink Cuffs, while the Intima Silk Blindfold intensifies your senses for what is to come. Then take pleasures to new heights with LELO's iconic Mia™ 2, a stylish lipstick-vibe that promises the most memorable nights with your partner.
Contents:
MIA™ 2 (Waterproof, USB-rechargeable Lipstick-like personal massager with 6 vibration modes), Intima Silk Blindfold (100% Silk), Sutra Chainlink Cuffs (100% Silk and Suede Restraints with nickel-free metal chain), Signature Gift Card, Satin Storage Pouch, 1-Year Warranty.