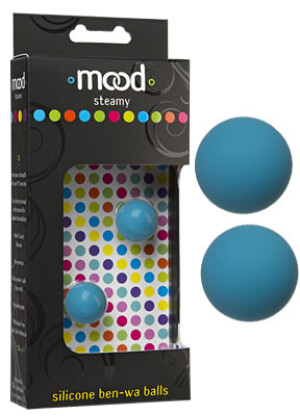 Okay, so you've run out of toys for your kid and you start to look at your collection of unused sex toys. Staring you in the face are the Mood Steamy Silicone Ben-Wa Balls and you're thinking "I knew I got them for SOMETHING!" Yep, these ¾" round orbs of pleasure can pass as simple kid's marbles if you happen to leave them out on a kitchen table. Their perky color and packaging (typical of the Mood line) just about lets them double as a pair of kid's marbles, too, but you'll want to save them for exercising your PC muscles yourself. These would make a nifty bridal shower gift because of the happy and non-explicitness of the product and package.

For more information, contact Doc Johnson:
Product Description:
Perfect for intimate stimulation, Mood Steamy features two premium Ben-Wa Balls with a luxuriously soft silicone coating and Velvet Touch finish. Perfectly sized and weighted for both beginners and advanced players alike, these Ben-Wa Balls work to strengthen and tighten kegel muscle, ultimately leading to more powerful orgasms. Available in Blue and Pink. Phthalate-free and Body-safe.