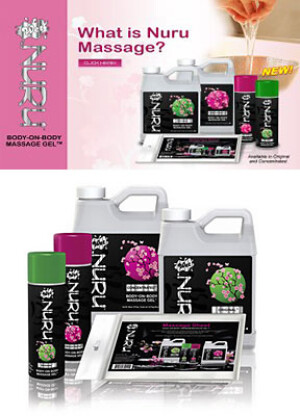 The plastic sheet protects your rollicking surface (it's really an 8mm plastic dropcloth) and there's a DVD to give you ideas as to what to do but you really don't need to watch it. Trust me… the concentrated Nuru Gel is the star of this show. Simply mix it with water and it creates a slick, viscous fluid that's similar to water-based lubricant yet is distinctively different. It's thicker and stringier and slides onto the body with ease. And that's when the fun begins. With an aloe vera, seaweed and chamomile formula, the Nuru gel feels great on your body and your lucky partner's body, too, and doesn't dry out like a lubricant. Oh, did I tell you how much FUN it is to use? Me and my happy product tester could not stop laughing the entire time and using it was sexy, silly, sensuous and hysterical all at the same time! I highly recommend Nuru!

Market Appeal

OMG. My grown up naked Slip 'N Slide fantasy is now a reality. This is a complete package of everything you need for the most horizontal fun you will ever experience.
Product Description:
Do you Nuru?
Nuru is a style of massage that originated in Japan. It is a sensual massage between partners using full body contact to relax the body and stimulate mutual sexual appetite. The massage is done with both partners fully nude, using a thick, ultra slippery massage gel. Wet® Nuru™ Massage Gel is available in two formulas, Original and Concentrate, both with moisturizing Aloe Vera, Seaweed and Grapeseed Extracts and soothing Chamomile Flower extract. These formulas are designed for long-lasting play. Wet® Nuru™ Massage Gel is made in the U.S.A. with the highest quality ingredients.