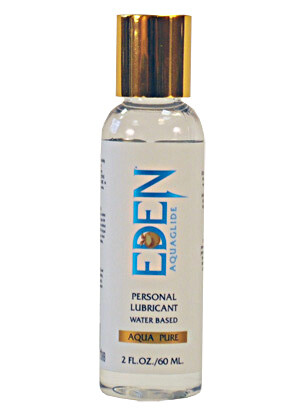 Eden Aquaglide by Venus Labs is a water-based, latex-free personal lubricant. It comes in a standard 4oz bottle with a pretty gold top. The lubricant itself is great — it isn't too stringy when squeezed out of the plastic bottle or too goopy. It is colorless and says it is odorless, which we have come to enjoy. We appreciate that the product is trying to stay as "pure" and additive-free as possible.
For more information, contact Venus Labs:
Product Description:
Ready for a lubricant especially tailored to meet your needs in a new and passionate way? The world–renowned Eden Aqua lubricants provide you with all the smoothness you can ask for in a water–based lubricant. Eden Aquaglide delivers a natural feeling of intimacy. Eden lubricants were developed by the world's leading sexual scientists, chemists and therapists for the ultimate love–making experience. Eden Aqua pure gel is sinfully wet and at the same time provides nurturing care to your erogenous zones. Eden's exceptional Aquaglide is a uniquely advanced new formulation. It guarantees complete glide pleasure together with long–lasting smoothness during intercourse without drying out.
This formula includes moisturizers and minerals to protect and even heal delicate skin. Our latex–safe gel is water–soluble and grease–free, flavorless, odorless, colorless, never sticky and dermatologically tested. Apply Eden Aquaglide to any part of your body where lubrication is desired to protect your skin and delight your senses. Available in 2oz, 4oz, 8oz, 16oz bottles, and 3ml individual sachets. Our consumers deserve an receive nothing but the best for their intimate needs. When you desire and need a quality water–based lubricant choose the very best, Eden Aquaglide lubricant products.