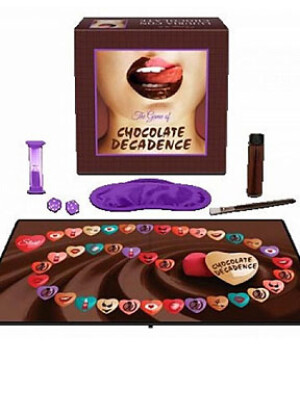 I am a chocolate lover…what woman isn't? This is the best game ever! Board games help to break the ice and bring excitement and adventure to the bedroom. The Chocolate Decadence game by Kheper Games makes it fun to seduce your lover with romance and chocolate. There are 36 game cards, a bottle of chocolate, the game board, a brush to softly stroke your lover, dice and game markers. We had so much fun playing this game…the only thing I hated was, we ran out of the delicious chocolate.
Product Description:
Seduce your lover with the sexiest game of romance and chocolate! Indulge in delectable ecstasy with 36 uniquely decadent chocolate adventures. The Game of Chocolate Decadence offers many nights of delicious gameplay with a fun, easy-to-understand and creative game board format. Enjoy sensual foreplay and experiment with body chocolate while earning Chocolate Decadence rewards for the end of the game.
Includes: 36 Chocolate Decadence game cards, a 1 oz. bottle of sumptuous body chocolate, a game board, a brush, two game markers, a die, and game rules.
Translated in English, Español, Deutsch, and Français.