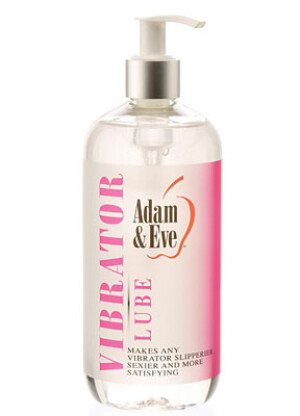 Vibrator Lube by Adam & Even allows us to use our silicone toys in the water with this water-based lube that is extremely long lasting. It's hard to believe this is not a silicone-based lube. Vibrator Lube is thick, silky, and smooth. When rubbed in or removed it left no residual other than super soft skin. It comes in a leak and drip-proof 16-ounce pump bottle making application during playtime quick and easy. The bottle can be moved into a lock position so it travels well! Vibrator lube is water based so it's latex safe making it compatible with most condoms.

For more information, contact Adam & Eve:
Product Description:
Give your favorite toys a pleasure boost with this ultra-slick water based lube. Apply just one pump from the easy dispensing big 15oz bottle directly onto your toys and you'll be blown away by the slippery sensations! Easily cleans with soap and water. Latex safe.
• Water based lube
• Formulated for use with vibrators or any toy
• Big 16oz bottle
• Easy pump allows for one-handed dispensing
• No spill design
• Unscented and super slick
• Cleans up with soap and water
• Safe for use as a sex lube and with condoms