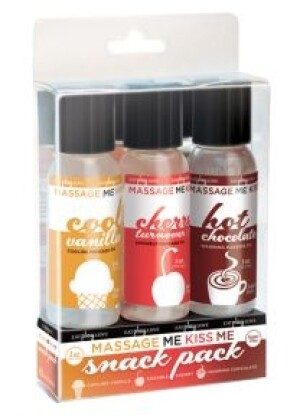 As far as massage oils go, they are pretty simple. They are "kissable" which we interpreted as "technically this is an edible product but don't expect to be able to gulp down a whole bottle of oil without some gastric distress." Though the products emit a warm and yummy smell during the massage portion of the experience, they were too sweet to enjoy the actual flavor. The sweetness was due to a sugar-free artificial sweetener, which was useful in preventing the oils from being sticky allowing for easy cleanup. If your massage sessions have a tendency to turn into heavy mouth meandering, then it would certainly be more pleasant than your standard baby oil.

Market Appeal

The Icon Brands Massage Me Kiss Me Snackpack oil set is one of those products that is easy to stock on any novelty store shelf. It is a common gift to give a bachelorette for example. It comes in a clear plastic package that displays the three flavors of massage oils: cooling vanilla, kissable cherry, and warming chocolate.
Product Description:
Luxurious trial-size, three-pack massage oils with a twist of delicious flavor. From Warming Chocolate to Cooling Vanilla to Cherry Turnover, pour it on, smooth it in and kiss it off… romance has never been so sweet. Snack pack includes three 1oz. size bottles. Mini bottles also available individually, in 40-count fish- bowls and the large 8 oz. size.