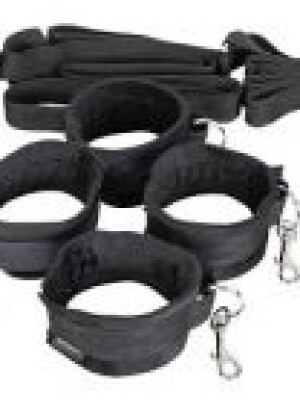 A bed restraint system is one of those items every couple should have for their naughty nights. The Sportsheets Under The Bed Restraint System comes in a simple box displaying a lingerie-clad, bound woman on a bed. The back of the box has a paragraph stolen from the pages of romance novel likely hidden in the bedside table of a single middle-aged woman. It describes a hotel room in Vegas and an anonymous duo about to play with the restraint system and spill perfectly good champagne all over each other. The excerpt does make a decent point however, that the Under The Bed Restraint System is portable. You can slide it under your bed at home or just as easily take it on the road.

Market Appeal

Sportsheets' revamped Premium packaging features matte styling with spot gloss on the product, gold foil accents and dynamic product photography that delivers a sense of superior quality and refinement.

For more information, contact Sportsheets:
Product Description:
Turn any size bed into a place of binding pleasure. Restraint straps quickly fit beneath any mattress or frame without hooks. Restrain your partner's arms or legs from the sides or the top and bottom of the bed. Portable and travel-sized.. Includes 4 cuffs and restraint straps.