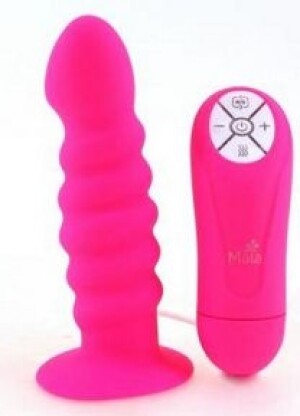 This little powerhouse packs plenty of pleasure in a compact 4 ½" x 1 ½" size. The creative, ridged design of this vibrator is sure to please the customer who wants a really versatile toy. The solid silicone vibrator has a built in, molded suction cup at the base, a wired controller holding 3 AAA batteries, comfy, stimulating ridges on the shaft, and best of all, the Marcia TTYD3 not only vibrates but easily spins around, too. With a great, 90-day warranty, the Marcia can be used as a vibrating dildo for a harness, suctioned onto a smooth chair surface or even stuck to a wall for hands-free fun. The simple to use buttons on the hand held controller let the Marcia zip through 10 vibration and pulsation speeds and through four different rotation speeds — pretty much every kind of setting for everyone to get themselves off.

Market Appeal

Make sure you show one of these beauties with the box open to display it (the box is solid with a magnetic closure). Better yet, have one out so your customer can feel the quality of the shaft and see the versatility of the toy. Once it's out of the box, they'll know how comfortable it will be inside their own.
Product Description:
This luxurious, soft-touch wired control silicone dong in multi modes and speeds delivering intense pleasure with gratifying sensations.

Features
- Wired control mini dong with rotating function
- 10 vibrating pulsation and 4 rotating speed
- Materials : Medical grade silicone and PU coated ABS
- Waterproof
- Color : Neon Pink
- Insertable Size: 12cm(Length) X 3.5cm(Girth)
- Total Size: 14cm(Length) X 7cm(Girth)
- Batteries : 2 x AAA