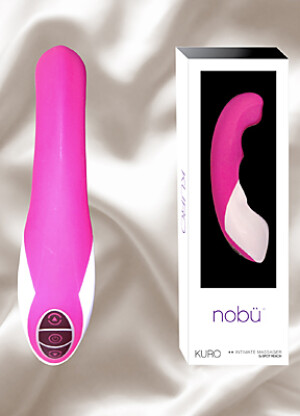 BodiSpa is a newer company that has created Nobu Kuro and I must say I am quite impressed.

My first response was how pretty this product was. This color of green on this toy is definitely a trendy color right now. When I took it out of the packaging I was in awe with its soft feel and immediately knew it was made of medical grade silicone, which is nonporous and body-safe.

The control buttons are strategically placed so play time is uninterrupted and just right for both individual and couples play. With the Nobu Kuro, there's no need to run out and get extra batteries, as it comes with a strong magnetic connection charger. One thing is for sure, this is not the last run in I will have with this toy.
Product Description:
Anatomically perfected for maximum G-spot pleasuring. The KURO's silent two-motor system powers 10 levels of vibration intensities (via push-button). Comfortably sized at 7 ½" x 1 ¼", the luxurious top quality, odorless silicone ensures a body-friendly experience. Splash proof, easy to operate and lightweight. Choice of recharge with USB connection or A/C power supply. The heavy duty Li-ion battery allows for up to 3 hours between charges.
Materials: medical grade Silicone / ABS (base/handle).
• G-Spot
• 10 levels of vibration
• top quality silicone
• 2 motors
• USB/AC power recharge
• 7 ½" x 1 1/4"
• Splash proof