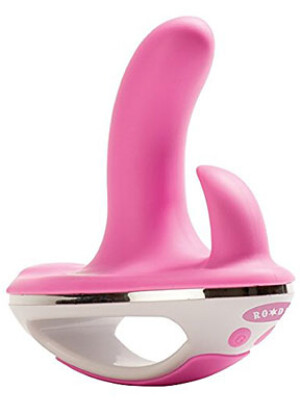 Yeeha! The Ro-DEO has a unique shape with a built-in handle, making it easy to grasp for a wild ride in the hay. And leave it to the Rocks-Off folks to create a charger for the global market — the face plate changes to allow you to slide in the plug adapter prongs of many countries so you can travel in style and sexual satisfaction with every plug you'll ever need while you're on the road. The dual-stimulating shape fits snugly (if a bit awkwardly against my vulva) but when I sit on top of it (which is what it was designed for), it feels pretty darn good. The multi speeds and functions roll in between my thighs for a bucking bronco ride. Yeeha!
For more information, contact Rocks Off:
Product Description:
All you've got to do is ride that pony to feel the wild Mustang between your thighs when RO-DEO springs into action. Lube up and sit deep in the saddle to experience the full triple motored, hands free erotic pleasure ride that this bucking bronco delivers. Feel RO-DEO's powerful sensual rock and roll motion target and stimulate your G-Spot and clitoris into a sexy stampede of orgasmic ecstasy every single time you saddle up.